If you have served in the military, you may be entitled to receive benefits because of your status as a Veteran. In the United States, veterans' benefits honor those brave men and women who served our country by providing them with health care, housing, and even long-term care options. There are many resources available to vets, including some specific to elderly veterans and those in need of long-term care. But, some veterans do not use them well because navigating these benefits can be confusing, especially for elderly retired veterans.
According to the U.S. Department of Veterans Affairs,  over 12.4 veterans age 65 and older are living in the United States. This particular demographic may have more need for resources than others yet have difficulty accessing them because they may not know where to look for help.
This guide will explain several VA benefits, especially those that apply to seniors. It includes how to use VA benefits to pay for long-term care needs, the eligibility requirements, and the application process for benefits, so you can determine your options for using those benefits to pay for your health needs.
VA Benefits Explained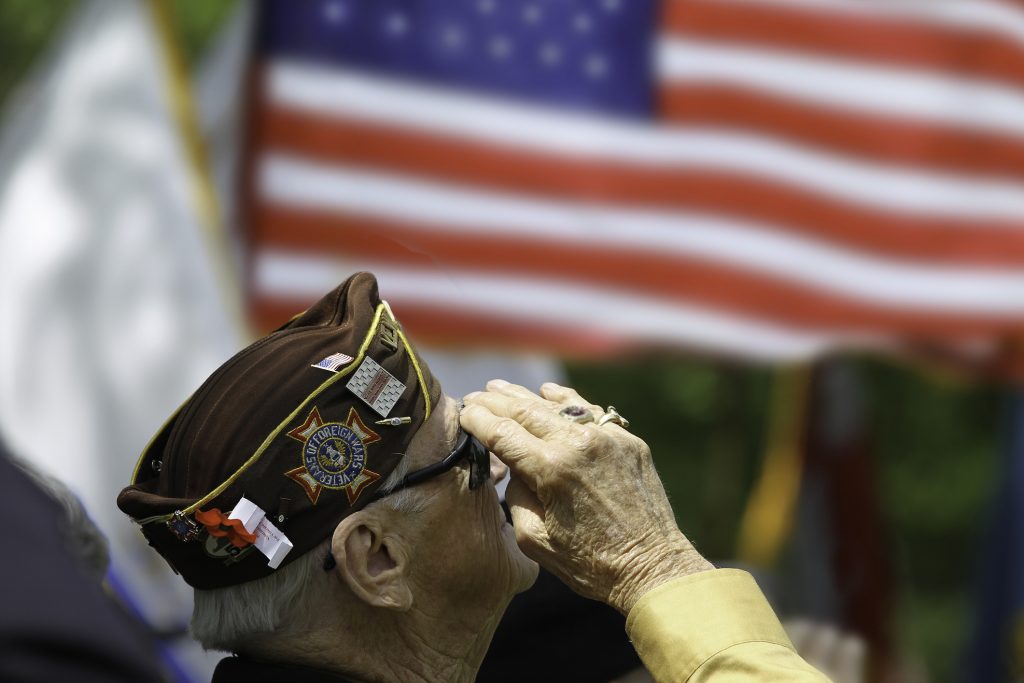 The U.S. Department of Veterans Affairs reports there are over 9 million Veterans enrolled in VA healthcare programs. Some of these benefits assist with the transition to civilian life, and others give elderly veterans retirement and health care benefits to support them when they can no longer work.
With these benefits, the VA aims to ensure that veterans have the health care and home they need to live healthy and productive lives after their military service. Veterans' benefits also assist with financial challenges that elderly veterans may face. Some programs focus on health care, counseling, and mental health instead of housing and finances.
While each program has its own eligibility requirements, in general, a veteran needs to be discharged from military service in something other than dishonorable conditions to qualify for veteran's services. Many veteran's programs require active military service on a full-time basis, but the VA has programs for National Guard or Reservists as well.
VA Benefits for Seniors
Ensuring that veterans have a safe place to live is an important part of what the Department of Veterans Affairs does. Two programs for elderly veterans specifically help with this: Aid and Attendance (A&A) and Housebound.
Through A&A, qualified senior veterans can receive an additional monthly pension amount if they need extra care to live at home. For example, if you need help with the activities of daily living or are bedridden, you may need to hire a caregiver. A&A can provide funds to help pay for that care. This program is also available to veterans who are patients in nursing homes, rather than living at home. People who have limited vision may also qualify for A&A.
Housebound is another veterans' benefit that works for many elderly vets. Specifically, Housebound provides an increased monthly pension amount to any veteran who cannot leave his or her home because of a permanent disability. The disability can be for any reason, not just service-related disabilities.
Veterans' Health Insurance
Health care costs can be excessive, but if you're a qualified veteran, you can get medical insurance benefits through the VA. VA Health Benefits can include help with basic medical care, wellness and preventive care, immunizations, genetic disease counseling, inpatient hospital services and other care needs. Sometimes you will be able to use your health care benefit for dental and other specialty care coverage options.
Veterans who have complex needs and require long-term care can use the VA Health Care for Elderly Veterans program. This program includes a Geriatrics and Extended Care program that is specific for veterans. Through this program, you may be eligible to receive payments for long-term care in a care center or to receive home and community-based services in your own home.
Eligibility for VA Benefits
The main criteria for being eligible for VA benefits is being a veteran, but the actual eligibility rules are a bit more complex than this. Each program has its own eligibility requirements. Universally, however, veterans must have something other than dishonorable discharge to qualify. If you were dishonorably discharged, you lose your right to claim veterans' benefits.
Veterans also must complete a minimum time in the service to qualify for health benefits. The rules the VA indicates apply include:
For those who enlisted after September 7, 1980, or who entered active duty after October 16, 1981, they must serve 24 continuous months or their full active duty period to qualify.
For those who enlisted or served before September 7, 1980, no minimum duty requirement is required.
For veterans discharged for a service-related disability or who took an early out for a hardship, the minimum duty requirement does not apply.
These are the requirements for general health care eligibility. Elderly veterans that need help paying for long-term care or care in their homes have additional requirements to qualify for A&A or Housebound veterans services.
For A&A, veterans must:
Need help with the activities of daily living, like bathing or dressing, or
Need to stay in bed for a large part of the day due to their illness, or
Be a patient in a nursing home because of their physical or mental health need, or
Have eyesight that is 5/200 or less in both eyes, even with corrective lenses
For Housebound benefits, veterans must have a health need or permanent disability that requires them to spend most of their time at home.
Priority Groups for Eligibility
The VA health care program assigns priority groups to ensure that those who need care the most urgently can get it quickly. This is often due to low income or a serious disability level. For example, someone who has a service-related disability that is 50% or more disabling, or makes the veteran unable to work, will get priority over someone who can work and has a high income.
The VA currently has eight priority groups. Some factors that can impact your priority group assignment as a veteran include:
Honors received for your service: Those with Purple Heart medals or Medal of Honor recipients are placed higher than those without.
Disabilities connected to service: Service-related disabilities increase the priority level for a veteran, and disabilities that led to discharge also impact eligibility.
Disability and Housebound status: Veterans who are unable to leave the house to receive priority over those that can.
Medicaid and VA pension benefits status: If you qualify for Medicaid or VA pension benefits, it will impact your priority group.
Once you receive your priority group, it will determine how quickly you get health care benefits. It will also impact how much you pay towards your health care, if you're required to pay anything at all.
The lower your priority group number, the less you will pay for medical care once your health care benefits get approval. For instance, those in priority groups 1 through 5 pay nothing for their first three urgent care visits a year, then a $30 copay for each visit afterward, according to the VA. For those in groups 6 through 8, the cost for all visits, including the first three, is $30. Similarly, veterans in groups 1 through 6 pay less for inpatient hospital stays than those in groups 7 and 8.
CHAMPVA Benefits
In addition to the benefits paid directly to a veteran, the VA offers the Civilian Health and Medical Program of the Department of Veterans Affairs.
What Is CHAMPVA?
CHAMPVA covers services and supplies that are medically necessary for the individual, such as durable medical equipment, inpatient care, outpatient care and skilled nursing care. It's a program for the spouses and qualifying children of some veterans who can no longer rely on their veteran family members to provide income.
Who Is Eligible for CHAMPVA?
CHAMPVA allows the surviving spouse or child of a veteran who has died or one with disabilities to get health insurance for themselves. This program is offered to those who do not qualify for TRICARE.
To qualify for CHAMPVA, you must be the spouse or child of a veteran who has suffered a permanent, total disability for a service-related issue or who has died because of a service-related disability. You may also be able to receive CHAMPVA if you're the child or spouse of a veteran who was permanently and totally disabled at the time of his or her death. Finally, the children and spouses of soldiers who died in the line of duty but who do not qualify for TRICARE may also receive CHAMPVA.
Applying for Veterans' Benefits
If you believe that you qualify for veterans' benefits for health care and long-term care needs, you need to gather some documents to start the application process. The VA recommends gathering:
Social Security numbers for anyone who will be covered, including the veteran and dependents
Military discharge papers
Insurance information for any coverage you have
Gross household income from your previous year's tax return
Deductible expenses for the previous year's tax return
There are several different ways you can apply, described below:
Apply Over the Phone: Once you've gathered the necessary information, you can apply over the phone. Call (877) 222-8386 on a weekday between 8:00 am and 8:00 pm Eastern time to do so.
Apply Via Mail: If you prefer to apply through the mail, which may be necessary if you have someone acting as a power of attorney, Use VA Form 10-10EZ. Fill out the form and sign it appropriately, then mail it to Health Eligibility Center, 2957 Clairmont Road, Suite 200, Atlanta, GA 30329.
Apply In Person: In-person applications require the same form. Instead of mailing it, visit a VA medical center or clinic to drop off the signed form.
Get Professional Help to Apply: There are accredited representatives that can help veterans apply for their health care benefits. This can limit the number of mistakes you make on the application. These trained professionals work on the behalf of veterans and their families, and they are completely free to use. To find one, go to the eBenefits website and search by your ZIP code, or find the VA-recognized organization in your area.
Using VA Benefits for Senior Care
VA benefits certainly have their limitations when it comes to senior care. Veterans who need the help of an assisted living or nursing home community can still get help through the VA, but getting that help requires additional programs beyond the health care benefit and a little bit of creativity. Specifically, the Homebound and Aid and Attendance programs offer some support that can make long-term care doable for veterans and their families.
Aid and Attendance Benefit for Long-Term Care
A&A is an additional pension amount paid to veterans who have long-term care needs due to disability or age. If a veteran served in active duty for at least 90 consecutive days, including one day during a time of war, and is already collecting a military pension, they may qualify for the A&A pension addition. This program can also be paid to surviving spouses of certain eligible veterans.
A&A benefits have specific clinical criteria that the veteran must meet to qualify. These include:
Being bedridden
Suffering a severe visual impairment that cannot be corrected with glasses
Needing to reside in a nursing home due to the disability or health need
Needing help with activities of daily living
The VA also has net worth limits and income limits when approving A&A applications. Income is based on the Income for VA purposes, which is the income of the veteran and any living spouse, minus any unreimbursed health care costs. The health care costs that a patient in a nursing home facility has are included in this.
If the veteran meets the clinical and income guidelines, they can receive an additional pension amount each month, which they can then use to pay for long-term care or in-home care. The program does not pay assisted living or nursing home care directly but rather provides money through your pension that you can use toward those expenses.
The A&A benefit is not enough to pay for the entire amount needed for long-term care. However, it does help. It can provide enough budgetary wiggle room to make a veteran consider paying for long-term care.
This program is meant for veterans who need long-term care for an illness or disability that did not come from their service. Those who are injured as a result of their service can often get care through their veterans' benefit based on their disability rating. However, those who retire without a disability, but later find that they need help due to old age or limited mental capacities, can use A&A to help with the costs.
VA Housebound Benefit
The VA Housebound Benefit is also a pension addition. This particular option is available to veterans who spend most of their time at home due to a permanent disability. Like A&A, Housebound does not require the disability to happen in the line of duty. In fact, veterans with service-related disabilities usually use a different program to pay for long-term care.
In order to qualify for Housebound, the veteran must be confined to a residence. Residences include:
Personal homes
Nursing homes
Assisted living facilities
To apply for Housebound, you will first need to establish your eligibility for the VA pension. Once approved, use VA Form 21-2680to add the Housebound benefit. This often requires your doctor to help you complete the form and document your disability. You will need to have a physician's report that validates your need for care. For the Housebound benefit, the VA looks for a disability rating of 100%, which means it's nearly impossible for you to leave your home. If approved, Housebound provides you with an additional monthly pension to use to pay for your care.
Like A&A, Housebound does not pay for long-term care directly. Rather, it increases your monthly pension amount so you can pay for it out of the money you receive. Like A&A, Housebound has income requirements, but the cost of your medical care is deducted from the income when determining eligibility.
A&A and Housebound Wait Times
Both A&A and Housebound can have long wait times for approval. It's vital that you apply as soon as you think you're eligible based on medical need. However, the benefits are retroactive, which means you will get paid for the time you were waiting if you're approved.
Resources for Senior Veterans
Veterans' benefits can help you get the money you need to pay for long-term care. If you do not qualify for veteran's health care benefits to cover your long-term care needs, you may be able to get an additional pension through A&A or Housebound. However, navigating these benefits and maximizing your use of them can get complicated.
To get help, consider calling a Family Advisor toll-free at  (800) 973-1540. Your Advisor will help you find a senior living community that fits your needs and also help you understand your benefits and how to use them to the best of your ability to pay for the cost of your care.
In addition, consider these resources to help you navigate your VA benefits and take better care of yourself or a senior loved one who is a veteran.